09 May 2022
Meet the New NHS and Healthcare Team at CPC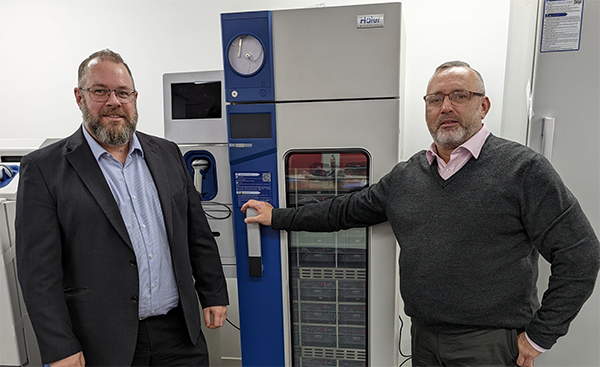 Clinical Pharmacy Congress has always been where Haier Biomedical's team can interact with people within the pharmacy arena and showcase our market-leading pharmacy refrigerators and freezers and our MHRA and CQC compliant temperature monitoring solutions.
New NHS & Healthcare Team
The last few years have been challenging to say the least, and will no doubt continue to be for some time. However, with challenges comes an opportunity for change and growth, and at Haier Biomedical, that's true. This year the business restructured to create a dedicated unit to service the NHS and healthcare sector, with personnel who understand the complexities of the pharma cold chain.
The new team is looking forward to meeting with pharmacy professionals from across the country to learn more about the challenges facing the sector in cold storage. A selection of pharmacy refrigerators and a live demo of the temperature monitoring solution will be on the stand.
New Touchscreen Pharmacy Refrigerator
Visitors will be able to check out the new touchscreen models of pharmacy refrigerators, which allow users to view temperature graphs, operation status, events and alarm records. The units have the added advantage of a USB interface capable of storing up to 10 years' worth of historical temperature data.
NFC entry and authorised access management system working with a magnetic lock to ensure product security, with traceable access.
All of Haier Biomedical's advanced pharmacy refrigerators reliably and precisely control temperature and provide a uniform temperature environment for medicines, vaccines, samples and other temperature critical products. Hydrocarbon refrigerants and compressor technologies reduce these units' energy consumption, making these units much more sustainable than old units.
Compliant Temperature Monitoring
The live demo system on stand G25 is a web-based future proof wireless monitoring solution. The system is simple to set up and includes personalised dashboards and proactive alerts via text, email or voice to ensure invaluable inventory such as medicines and vaccines are protected from loss or compliance failure.
https://youtu.be/xKdxyLV1Hrg