20 Jun 2022
What can we do to better connect with our colleagues and support each other?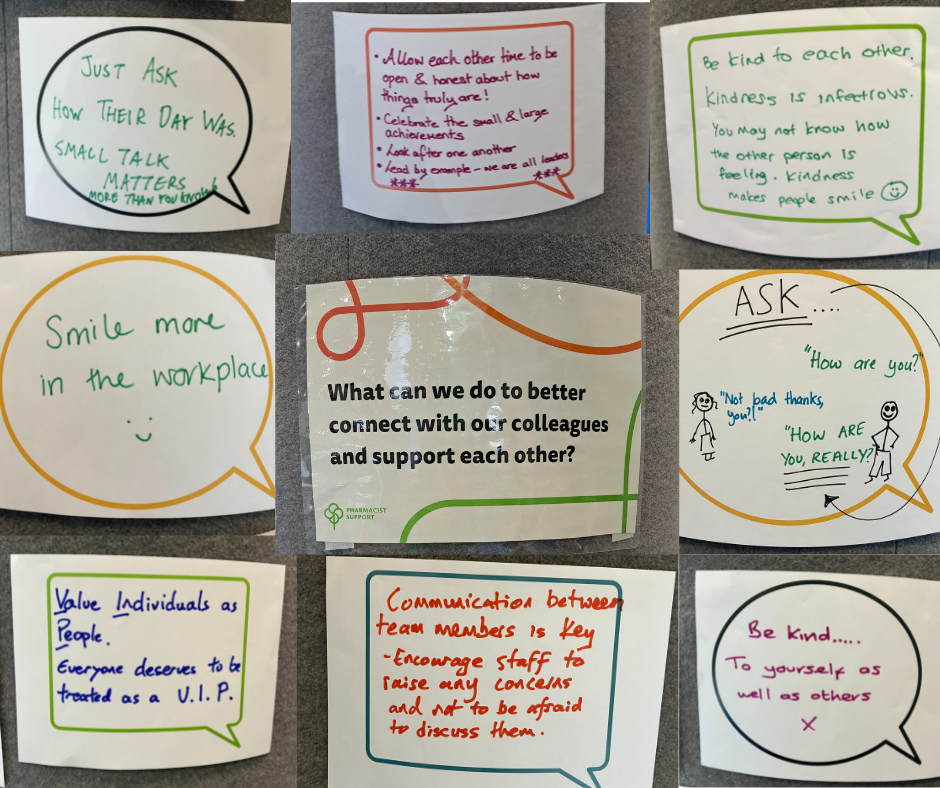 That was the question the Pharmacist Support team were asking attendees at this year's Clinical Pharmacy Congress. The profession's charity, whose mission is to 'champion the wellbeing of their pharmacy family', used this face-to-face opportunity to stimulate conversations around wellbeing in the workplace and sector wide burnout.
"Being at the exhibition allowed us to have in-depth conversations with students, trainees, pharmacists, and employers about how they were feeling, and the key issues faced, as well as share details on the free and confidential support we offer" commented Chief Executive, Danielle Hunt. "We encouraged attendees to think about workplace relationships which provoked many interesting conversations and answers that were shared on our Positivity Pillar".
The charity's Chief Executive, Danielle Hunt, and Wellbeing Development Manager, Melissa Cochrane, also delivered a session on 'Wellbeing in Pharmacy - What will it take to reverse the trend of burnout?' which explored the wellbeing crisis in pharmacy and how, as a sector, we can address this wellbeing crisis - including what needs to be done to remove the stigma around mental health and improve workplace culture.
The Congress provided a great opportunity for the team at Pharmacist Support to share how they have developed and expanded their support in response to the trauma and burnout now faced as a result the pandemic. They presented details on a new counselling service that was launched last year providing individuals who are suffering from anxiety, depression, a change in family circumstances that causes distress, bereavement, and other psychological issues with access to up to 12 counselling sessions.
Other developments included a new wellbeing workshop now available on the charity's Wellbeing Learning Platform. The 'Live the Life You Want to Lead' workshop is for individuals who feel they'd like to make a change in their lives but aren't sure where to begin. It forms part of the free wellbeing and mental health training on the platform, with other modules including; The Science behind Wellbeing, Stress Management and Building Resilience, Time Management, Get Mentally Prepared for the Assessment and Introduction to Assertiveness. The platform is for individual wellbeing learning and training and is available to pharmacists, trainees and students.
As announced earlier in the year, Pharmacist Support was chosen to be the Clinical Pharmacy Congress' nominated charity at their event in May. This continued partnership forms part of many partnerships we have with organisations across the sector who are keen to showcase their commitment to improving wellbeing amongst our pharmacy family.
Another focus of this partnership between the Clinical Pharmacy Congress and Pharmacist Support was to help raise vital funds to support the charities activities. Through this partnership £1 from every ticket sold was donated to Pharmacist Support, raising £320 for this highly valued cause.
"We are very grateful to the team at the CPC for selecting us as their charity partner" commented Danielle Hunt. "By doing so, they are supporting the mental health and wellbeing of those in our pharmacy family. Donations such as these enable us to develop new resources in response to need and to continue to provide our free and confidential support to those who find themselves in difficulty."
Click here to read more about our partnership with the profession's charity, Pharmacist Support.