06 Apr 2022
CHAPPER healthcare to showcase pioneering asthma management tool at Clinical Pharmacy Congress 2022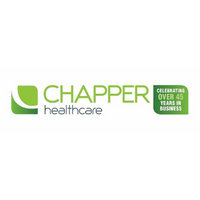 Leading UK-based global pharmaceutical wholesaler & distributor CHAPPER healthcare – which supplies an extensive network of NHS and private hospitals in the UK – will be showcasing its services at The Clinical Pharmacy Congress 2022.
Established in 1975, CHAPPER healthcare are specialists in the supply of medicines, including importation of unlicensed 'specials' and unavailable or out of stock products. Their experienced team pride themselves on delivering exceptional customer service and supplying products safely, securely and on time to satisfy unmet patient need to customers in the UK and around the world.
CHAPPER healthcare actively contract with manufacturers to provide distribution services of both UK registered and unlicensed medicines to hospitals across the UK.
In the UK & Ireland, the company has partnered with Australian pharmaceutical company Pharmaxis Ltd for the distribution of the Aridol®/Osmohale® mannitol challenge test, an innovative lung function test designed to help doctors diagnose and manage asthma by detecting active airway inflammation through measuring airway hyper-responsiveness (BHR). The objective measurement of BHR plays a key role in the diagnosis of respiratory conditions such as asthma.
Since commercialisation in Australia in 2006, the mannitol challenge test (Aridol®/Osmohale®) has been used in numerous clinical trials and is approved for sale in Australia, major European countries, the United States, Canada, and South Korea.
Jonathan Chapper, CEO of CHAPPER healthcare, commented: "We are delighted to be exhibiting at The Clinical Pharmacy Congress in London to help meet new partners and showcase products such as the Aridol®/Osmohale® mannitol test. At CHAPPER, we pride ourselves on delivering an exceptional service to a broad spectrum of customers including hospitals, wholesalers, healthcare professionals and end users and hope to meet new contacts at the exhibition. We are excited to be working with an innovative company such as Pharmaxis to supply Osmohale® to customers in the UK and Ireland, and look forward to meeting new and existing contacts interested in learning more about this product and other services we offer."
Aridol®/Osmohale® is the first and only Europe-wide approved bronchial challenge test and the world's first approved indirect challenge test for asthma, a condition which affects more than 8 million people in the UK – approximately 12% of the population (1). A 2020 study shows that, in the UK, asthma patients are increasingly prescribed higher levels of treatment, often without clear clinical indication for such high doses (2).
Manufactured by Pharmaxis Ltd, Aridol®/Osmohale® provides an innovative tool to assist doctors in providing appropriate asthma treatment. The product is available as a standardised test kit containing pre-filled mannitol capsules and a single-use, hand-held dry powder inhaler. During a mannitol challenge test, patients inhale increasing doses of mannitol with their lung function measured after each dose to determine the level of BHR.
CHAPPER is working closely with Pharmaxis to achieve the successful distribution of the product in the UK & Ireland, where the test can provide an important disease management tool for millions of asthma sufferers.
Specialising in the supply of pharmaceuticals, CHAPPER healthcare supplies clients in over 70 countries and operates from 2 purpose-built UK warehouses. The company has additional hubs in Ireland, Belgium, Netherlands and Germany as part of its European expansion strategy to get medicines to patients quicker and more efficiently.
Exhibiting for the third time at the Clinical Pharmacy Congress, the CHAPPER healthcare team are eager to meet new and existing contacts interested in learning more about its services and building new partnerships.
The Clinical Pharmacy Congress is taking place from the 13th-14th May at ExCeL London and is the largest gathering of clinical pharmacy professionals in Europe – bringing together thousands of clinical pharmacy professionals to enhance their learning and networking opportunities.
For more information or to book an appointment with the CHAPPER healthcare team, please contact: UKenquiries@chapperhealthcare.com or visit www.chapperhealthcare.com.
[1] https://cks.nice.org.uk/topics/asthma/background-information/prevalence/#:~:text=In%20the%20UK%2C%20over%208,people%20are%20receiving%20asthma%20treatment.
[2] https://pubmed.ncbi.nlm.nih.gov/32692744/