03 Aug 2021
CPC to continue their partnership with Pharmacist Support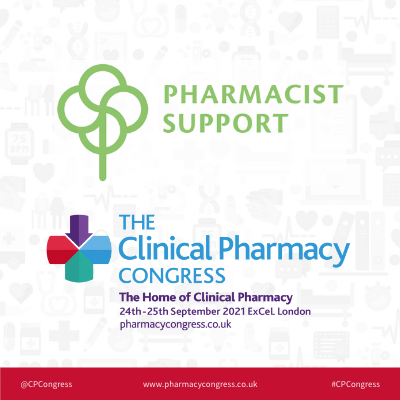 The Clinical Pharmacy Congress (CPC) is excited to announce a new partnership with Pharmacist Support as their nominated charity for the 2021 event.
CPC, will be hosted at the ExCeL London this 24-25 September 2021. This is an event designed to unite the clinical pharmacy profession and showcase a variety of innovations and insights that can be put into practice to be one step ahead.
Pharmacist Support is a well-established, independent, and trusted charity supporting pharmacists and their families, former pharmacists, trainee pharmacists and pharmacy students. They provide a wide variety of free and confidential support services: Information and Enquiries, Specialist Advice, Financial Assistance, Addiction Support, Counselling and Peer Support, and the Wardley Wellbeing Service.
They're proud to be able to support people from such a caring profession and each year they provide thousands of acts of support. By championing wellbeing, Pharmacist Support's vision is for no one in our pharmacy family to face challenging times without them by their side.
As part of this year's event, CPC is proud to support the charity's much-needed fundraising drive by encouraging individuals to make a one-off donation to Pharmacist Support.
Danielle Hunt, Pharmacist Support's Chief Executive says: We're very happy to be continuing this partnership with the Clinical Pharmacy Congress.'Whilst the charity has worked harder than ever to provide support to the pharmacy profession during the pandemic, most of our usual fundraising activities have not gone ahead. We, like many charities across the world right now, are having to find new ways to deliver our support to ensure that the people who need us are not cut off from help when they need it most.'
These past 18 months have been especially challenging for our pharmacy family and our support is needed now more than ever. Should you be in a position to donate, we thank you in advance for your support at this crucial time.'
These past 18 months have been especially challenging for our pharmacy family and the charity's support is needed now more than ever. Should you be in a position to donate, please show your support at this crucial time by donating here or texting CPC2021 to 70191 to donate '10 and help pharmacists across the country who are facing challenging times.
As before, our text to donate codes are still live and are:
To donate '1, text CPC2021 to 70201
To donate '3, text CPC2021 to 70331
To donate '5, text CPC2021 to 70970
To donate '10, text CPC2021 to 70191
This collaboration is another demonstration of this community's commitment to supporting pharmacy students, trainees, working pharmacists or retirees going through hard times. The Pharmacy Show is also an opportunity to network with like-minded people and/or catch up with old friends.
'We are delighted to be working with Pharmacist Support for this year's CPC and have them on board as our nominated charity. Supporting pharmacy professionals and their families is a matter close to our heart and we are proud to be working with a charity that achieves exactly that, especially as we return to face-to-face meetings and education to help support the mental health of the profession.' Said Group Event Director for CPC, Laura Shapiro.
Full information about our partnership and event activity can be found 'here.