27 May 2020
How to build an ICU Pharmacy in nine days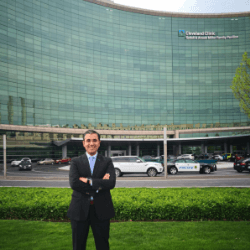 Creating a pharmacy team to handle critical care in ICU is no small task. Typically, the process of sourcing the right people, setting up appropriate systems and beginning operations takes months.
The team at NHS Nightingale have proven that with commitment, community spirit and a relentless sense of mission, it can be done in just nine days.
Ahmed Al-Nagar is Pharmacy Operations Manager at Cleveland Clinic London, a hospital project currently in development. With years of experience in pharmacy and ICU in the UK and civilian assistance during the Iraq War, he was an obvious choice for pharmacy workforce lead at NHS Nightingale, the ambitious hospital project designed to give the NHS additional capacity for the Covid-19 pandemic.
'I was so excited to be able to help ' and we really were starting from scratch,' says Al-Nagar. What followed was what the most challenging start to a job that Al-Nagar had ever faced. A call went out for volunteers to join the team ' answered by more than 2,000 members of the public and around 250 pharmacists volunteered. 'The pharmacy professions were incredibly honourable in throwing themselves into the frontline of a pandemic. It was heartwarming to see how many answered the call,' says Al-Nagar.
The sheer volume of volunteers meant 16-hour days of calling people, understanding their skillsets and what induction requirements they might have. Nightingale needed critical care pharmacists with ICU experience ' and dependable support form an army of technicians and assistants who could cope with a worst-case scenario of 4,000 Covid-19 patients.
'At the time, we couldn't anticipate how many patients we would be treating, so we needed to ensure we had the capacity and that everyone was up to speed,' explains Al-Nagar. As a result, all approved volunteers went through a rapid induction programme, designed to create a 'bank' of skilled pharmacists and assistants who could be called in to support at short notice.
'I'd been working with Robert Shulman in Critical Care Pharmacy at UCLH on developing an educational programme anyway, so we already had the slides ready and were able to deliver a basic induction for ICU in a three-hour session,' he says.
A similar programme was also developed in conjunction with Health Education England, to upskill volunteer pharmacy assistants.
A change in approach
The urgency of the mission meant expediting every element. 'We didn't want to reach the point where people couldn't get care,' says Al-Nagar. Rapid but careful planning helped to navigate critical issues such as clearance from HR, or how to make some methods of working more efficient.
To ensure swift agreement and the best possible outcomes, the hospital took a multi-disciplinary team approach to project planning, bringing pharmacists and nursing staff together. 'That makes the decision-making process much smoother. It's an approach that could be continued in the future,' says Al-Nagar.
As part of that approach, the pharmacy team introduced new processes to reduce the burden on other key healthcare workers within NHS Nightingale.
'Typically in an NHS hospital, nursing staff can spend up to half their working hours prepping drugs for patients. We wanted to make operations as slick and smooth as possible, so we carried out all that prep work for them, with everything labelled, so the nurses could administer medication straight away and get on with other essential tasks,' explains Al-Nagar. He also sees value in making such a process the norm throughout hospitals, both for the time saving and the enhanced safety and robustness it brings to drug preparation.
The future
Al-Nagar points to the UK Government's lockdown as being a crucial factor in preventing the NHS from being overwhelmed, meaning the full capacity of Nightingale was ultimately not needed at this time. However, the experience of setting up the project means that there is now 'embedded' capacity to restart similar projects in the event of a second wave of the virus.
'Usually the process of setting up an ICU pharmacy like this would take months. We did it in nine days, and that's thanks to the massive support we had from the wider pharmacy community. With the skills we've developed and that same spirit, I think we could now repeat this task in three days, if required.'
For now, Al-Nagar has returned to his Cleveland Clinic London role, implementing an innovative medicines optimization model with the latest technology. 'Luckily, we never needed to use the scale that we'd planned for ' but should that happen in the future, we will be ready,' he says.