06 Apr 2022
The i2i Network developed by Soar Beyond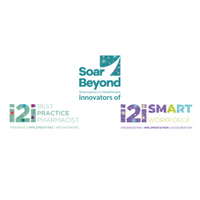 The i2i Network was developed by Soar Beyond to meet the unmet need of GP Pharmacists to implement clinical change in a standardised and simplified way. The i2i stands for insight to implementation with the i2i team having supported and trained thousands of practice pharmacists to implement effectively, whilst demonstrating impact on patient care in long-term condition management.
We have over 15 programmes covering asthma, atrial fibrillation, chronic pain, COPD, diabetes, heart failure, osteoporosis, overactive bladder, paediatrics and more!
Each programme is written by Soar Beyond clinical pharmacists and service redesign experts and is supported by a faculty of clinical thought-leaders in the therapy area. Best of all, it is completely FREE for pharmacists to join.
Each programme comprises the following:
Interactive competency assessment tool
E-learning modules
On-demand content and live events
Suite of implementation resources including project initiation documents, clinical system searches and templates
Visit www.i2ipharmacists.co.uk to join today, drop by stand C12 to speak to one of our team or join our CVD sessions in the Primary Care Theatre.
We will also have our Managing Director, Shailen Rao chairing the speaker panel on IPMO: Cross sector perspectives in the Primary Care Theatre. One not to be missed!
As well as the i2i Network, Soar Beyond is an innovator of the SMART Workforce Platform which was selected as one of the 21 highest potential digital technologies by the DigitalHealth.London 2022 Accelerator programme.
The SMART Workforce platform comprises innovative, interactive and intuitive workforce competency assessment tools to map, identify and address the multidisciplinary (MDT) workforce capability and development needs in a standardised way and has long been used for Additional Roles Reimbursement Scheme (ARRS) roles in primary care.
Recently, these SMART tools are being applied to underpin large scale transformation in long term condition pathways like diabetes, atrial fibrillation, and heart failure. Using SMART is leading to robust and well-informed MDT workforce recruitment and development plans which meet population and service needs whilst providing demonstrable impact on service delivery, health care professional motivation and patient outcomes.
We are seeking to connect with forward-thinking ICS level transformation and development leads or those leading complex and under-served pathways such as mental health and CVD. Come and visit our stand this year if you are keen to systematically develop and optimise your multidisciplinary workforce whether at organisational or system-level.
Visit www.thesmartworkforce.com to join today or visit us on stand C12.