Blackpool Teaching Hosptials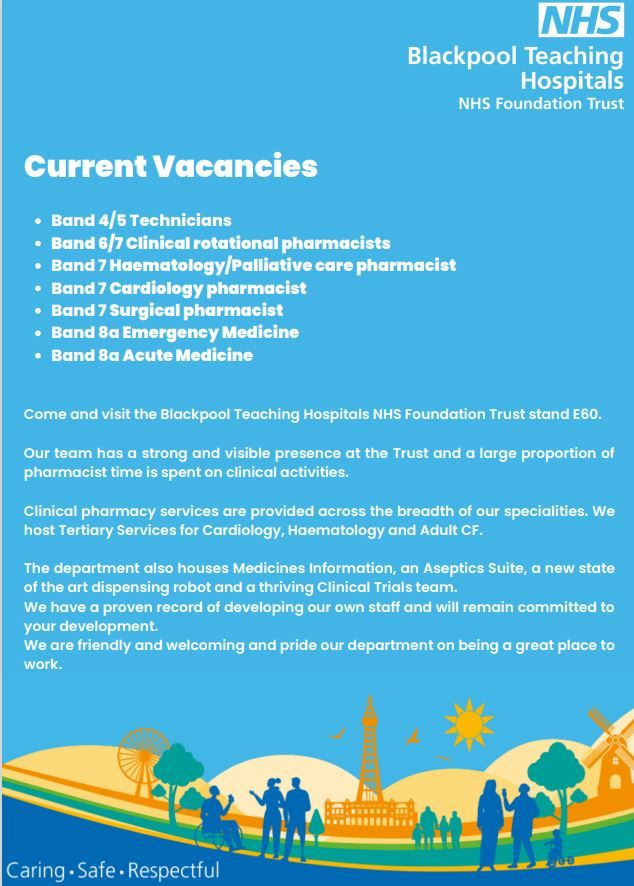 Genuine engagement of our staff is a philosophy that sits right at the heart of our core values. When you are the best you can be, it means that – together – we can achieve better care for our patients. We stand for a Safe, Caring and Respectful approach to healthcare.
Current Vacancies
Band 4/5 Technicians Band
6/7 Clinical rotational pharmacist
Band 7 Haematology/Palliative care pharmacist
Band 7 Cardiology pharmacist
Band 7 Surgical pharmacist
Band 8a Emergency Medicine
Band 8a Acute Medicine
Come and visit the Blackpool Teaching Hospitals NHS Foundation Trust stand E60.
Our team has a strong and visible presence at the Trust and a large proportion of pharmacist time is spent on clinical activities. #
Clinical pharmacy services are provided across the breadth of our specialities. We host Tertiary Services for Cardiology, Haematology and Adult CF.
The department also houses Medicines Information, an Aseptics Suite, a new state of the art dispensing robot and a thriving Clinical Trials team. We have a proven record of developing our own staff and will remain committed to your development.
We are friendly and welcoming and pride our department on being a great place to work.